Welcome

The Melodie Hope Jones Memorial Scholarship Fund is a scholarship established in memory of Melodie Hope Jones, a 2015 graduate of Milano High school, who lost her life in a tragic auto accident while attending Blinn College and pursuing her dream of becoming a nurse.
This educational scholarship was established to recognize and support a senior Milano High School student that through their caring and compassion for their peers exhibited the same determination and compassion for others as Melodie Hope Jones did in pursuing her educational dreams at both Milano High School and Blinn College.
The Melodie Hope Jones Memorial Scholarship Fund Inc., at the request of the Jimann and Jeff Jones Family, is offering a scholarship of $2500 to a graduating senior of Milano High School.
CLICK TO APPLY
CLICK TO DONATE
Congratulations
Congratulations to Ms. Linda Lara! Lara is the 2023 recipient of the Melodie Hope Jones Memorial Scholarship. The scholarship committee is proud to award this scholarship to this young lady and wish her the best in the pursuit of her future goals and dreams.
Pictured with Lara is Mrs. Meyer, Melodies OAP teacher and friend.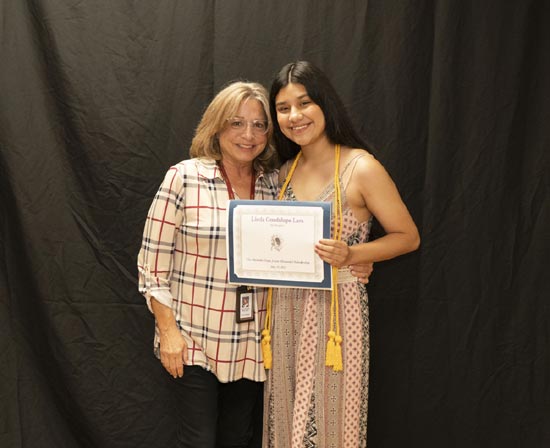 Congratulations to Linda Lara.
recipient of the 202
3
Mel
odie
Hope Jones Memorial Scholarship.
---

The Melodie Hope Jones Memorial Scholarship Fund, Inc is a Texas Nonprofit Corporation established in 2017.
Questions contact: melodiesmeow@gmail.com