Welcome

The Melodie Hope Jones Memorial Scholarship Fund is a scholarship established in memory of Melodie Hope Jones, a 2015 graduate of Milano High school, who lost her life in a tragic auto accident while attending Blinn College and pursuing her dream of becoming a nurse.
This educational scholarship was established to recognize and support a senior Milano High School student that through their caring and compassion for their peers exhibited the same determination and compassion for others as Melodie Hope Jones did in pursuing her educational dreams at both Milano High School and Blinn College.
CLICK TO DONATE
Join Us for the 2019
Sunflower Run/Walk benefiting
The Melodie Hope Jones Memorial Scholarship Fund
on Saturday, September 28, 2019
CLICK HERE FOR DETAILS
The 2018 Sunflower Fun Run/Walk raising money for the Melodie Hope Jones Memorial Scholarship brought out close to 400 people to the Davidson Creek Park in Caldwell.
The placings for the 5 K run were
1. Andy Gutierrez at 19:59
2. Lisa Koenig at 20:57
3. Jairam Katta at 21:37
4. Kadance Koenig at 21:50
5. Jim Walton at 22:36
6. Wyatt Koenig at 22:44
Many others participated by running, walking, and encouraging. The focus was on encouraging others in their personal goals and enjoying the path. Everyone that participated was a winner at heart.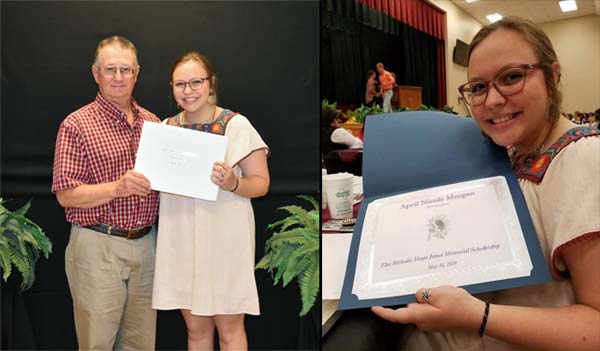 Congratulations to April Nicole Morgan,
2019 recipient of the Melodie Hope Jones Memorial Scholarship
Presenting the award in honor of Melodie to April is Melodie's

t

rack coach and friend, David Westbrook.
---
The Melodie Hope Jones Memorial Scholarship Fund, Inc is a Texas Nonprofit Corporation established in 2017.
Questions contact: melodiesmeow@gmail.com